Kayce
Well-known member
VIP
Author
Member
Joined

May 22, 2015
Messages

137
Points

28
Height:5ft 11in
Weight:260 lbs
Off Season Weight:300 Lbs/136 Kg.
Competition Weight:260 Lbs /118 Kg.
Birth date:Apr 7, 1982
Home:Trumbull, Connecticut, USA
Occupation:IFBB Pro Bodybuilder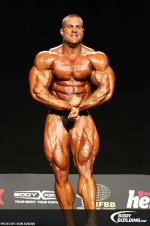 Evan Centopani Bodybuilding Competition List
2014 IFBB Australia Pro Grand Prix XIV - 3rd
2014 IFBB Arnold Classic -5th
2013 IFBB Olympia Weekend -13th
2013 IFBB PBW Tampa Pro -1st
2012 IFBB Olympia Weekend - 8th
2012 IFBB Pittsburgh Pro
2012 IFBB Arnold Classic -3rd
2011 NPC Washington Iron man
2011 IFBB Arnold Classic, Ms. International, Fitness International & Figure International - 4th
2011 IFBB Flex Pro Show -1st
2009 IFBB New York Pro -1st
2008 NPC Connecticut Grand Prix & Connecticut State Bodybuilding, Figure & Fitness Championships - 1st
2007 NPC National Championships -1st
2007 NPC National Championships -1st
2007 NPC National Championships -1st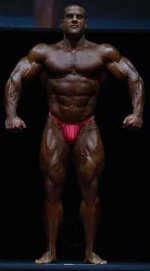 From Evan Centopani's Facebook page
Evan "Ox" Centopani -- Son, Husband, Father, Bodybuilder
Biography
My name is Evan Michael Centopani. I was born April 7, 1982 in Bridgeport, CT. weighing 9 lbs. 1 oz. I grew up in Monroe, CT a small suburban town in Fairfield County.
As far back as my memory allows me to go, I can remember myself as being overweight. By the time I was in kindergarten I was already over 100 lbs. I was the fat kid. I was the biggest kid on any sports team I ever played. I was the kid in gym class who couldn't run the mile, couldn't do a pull-up, and hated getting changed in the locker room.
Adults would call me husky. They would say what a big boy I was or something but never hint at the fact that I was overweight. Older guys would tell me what a good football player I would someday make.
But I never wanted to be a football player. Sports never really thrilled me anyway. I grew up as an only child and spent a lot of time entertaining myself. I did a lot on my own. I didn't like being part of a team and to this day I don't like being told what to do. So for me, sports were never really my favorite. The last attempt I had given sports was when I was going into my freshman year of high school. I was 220 lbs and a bunch of my friends convinced me that I should try out for football. So I did. I went through Spring training and the captains' practices over the Summer. And when school started in the Fall I went to all the practices. What I came to realize was that I liked all the training but really had no desire to play football.
I had dropped 20 lbs. from all the practicing and I now had a new hobby. Exercising became my focus. I can remember sitting in my room after school during the beginning of my freshman year in high school. I decided to go for a run. I ran around the blocks that made up my neighborhood and was able to run only half a mile. For the next year I continued running and was up to five miles a day by the time my sophomore year had started.
For the first time in my life I was able to wear whatever clothes I wanted. Taking my shirt off at the beach no longer bothered me. There are so many seemingly trivial things that we take for granted that I was now able to enjoy.
Realizing that I had perhaps gotten a little too thin, I decided it was time to put some size back on. My uncle offered to let me use his weight set so I began riding my bike to his house every day to work out in his basement. After a few months of that I invested in a weight set and started working out in my basement. It was very basic but it got the job done. Working out in my basement with limited equipment forced me to do basic movements and to be creative with them.
I had been out of college for just under a year and was training at a local gym when I became friends with Ron Rich. Ron was the biggest guy in the gym and soon after we started training together, he convinced me that I had to compete. I ended up getting a little more than I bargained for. He wouldn't take that as an acceptable answer and within a couple of months I found myself getting ready for the 2005 NPC Bev Francis Atlantic States. Weighing in at exactly 225 lbs I won both the heavyweight and overall title.
A while into my training for the 2006 NPC Nationals I got a call from Steve Blechman again with more good news. He planned to put me on the cover of Muscular Development. This was like a dream come true. I couldn't believe it.
Soon after signing with Muscular Development, I was put in touch with Universal Nutrition by photographer Irv Gelb. At this point, I had spoken to a number of companies and was easily able to see that Universal was the right fit for me. Aside from them being a company with longevity, a solid reputation, and products which helped me build my foundation when I first got started, they expressed a sincere interest in me as both a person and athlete. I feel blessed to be a part of both Muscular Development and Universal. Knowing that I have people behind me who will pull for me means a lot.