Joe Pietaro Contributer
VIP
Author
Joined

May 30, 2014
Messages

1,113
Points

48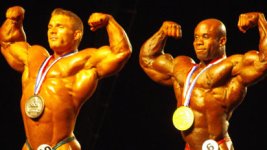 by Joe Pietaro
07-14-2014
Having already made the statement, James "Flex" Lewis seems destined to move up from the 212 and under division to the men's open class on a winning streak. He has won the two previous Olympia 212 Showdowns and this year's inaugural 212 Arnold Classic and is the favorite heading into Las Vegas come September. But what happens if there is an upset at the Orleans Arena?
It is quite possible that someone such as David Henry (who has tasted Olympia victory before), Aaron Clark or Jose Raymond can dial it in and Lewis may be just a little off. In that instance, does the Welsh Dragon delay his move?
No competitor wants to walk away – albeit from the sport entirely or to a different category – on a sour note. And Lewis being dethroned would certainly define that. Perhaps he would have been better off waiting until the Olympia was over before publicly announcing his intentions. If anything, this puts even more pressure on him to walk away a winner.
In his defense, Lewis has stated that he feels there is nowhere further to go with his physique having to be capped at 212 pounds and he added that he was in contest shape as high as 260. That is quite impressive with his aesthetic build.
One has to hope that if Lewis does move up, then he will not try to add too much size and keep his pleasing physique. He can certainly challenge Phil Heath and their bodies are comparable. If anything, the reigning Mr. Olympia has to be an inspiration to Lewis in proving that you do not have the be the biggest guy on stage to win at this level. Competitors like Kai Greene, Dennis Wolf and Big Ramy pack on more mass than Heath, but are not as proportioned as 'The Gift.'
So Lewis would be an interesting addition to what is already a formidable Olympia line-up. He would surely be able to hold his own even now but will be a tougher out taking the stage in the neighborhood of 250 pounds.
FLEX LEWIS CONTEST HISTORY
2014 Arnold 212 - 1st place
2013 Olympia 212 Showdown – 1st place
2012 EVLs Prague Pro Championships – 1st place
2012 British Grand Prix – 1st place
2012 Olympia 212 Showdown – 1st place
2011 Arnold Classic Europe – 5th place
2011 Olympia 212 Showdown – 2nd place
2011 New York Pro – 2nd place
2011 Mr. Europe Grand Prix – 3rd place
2011 British Grand Prix – 1st place
2009 Olympia 202 Showdown – 5th place
2009 Atlantic City Pro – 1st place
2008 Olympia 202 Showdown – 3rd place
2008 Europa Super Show – 1st place