Hi everyone, I'm 17 years old, 1.77 m x 66 kg,
I started gym, calisthenic with some times some weights like 3/4 months ago.
Knowing how to train better, how to build muscle, how to know our body, I'm now at the point that I am stuck, I am very discouraged, because of my body structure. I don't know if it's me that I'm paranoic, but I see that I'm too lean at the superiore parte of the body, maybe the next years, growing, the structure will go better, but can even not go better. So I don't know if to continue to do gym, even if I do much muscles my shoulders are only 44 cm (extremity to extremity), compared to the bottom part of the body, like my greater tronchater of femur, that goes very out. so I will not have a decent body anyway.
I decide to start even swim, maybe the upper part of the body become bigger. I know that swim don't make shoulders bone bigger, but maybe will help if I will grow more
I need to keep very up my pants so I can look more proportional, like in the third photo, after workout and during a big breathing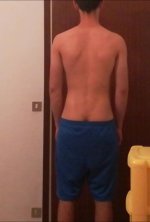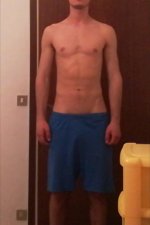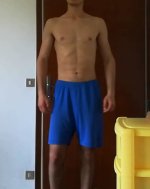 I am using the MuscleMecca Bodybuilding Mobile App!