MuscleMecca Crew
MuscleMecca Crew
VIP
Author
Joined

May 11, 2012
Messages

3,059
Points

63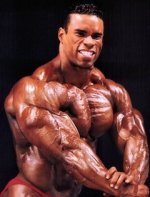 As of this writing, we're currently in July, which means that we're still a good couple of months away from the 2016 Mr Olympia contest. As Olympia's go, up until a few months ago, this contest was shaping up to arguably be one of the most predictable and bland competitions in recent history, and rightfully so. Kai doesn't appear to be competing, Phil Heath is once again the favourite to retain for another consecutive year, Dennis Wolfe is injured and has lost a lot of his trademark size, and there just generally doesn't seem to be anybody else who looks ready to step up and challenge Phil for the title. For years it has been Phil VS Kai, yet as Kai doesn't look set to compete due to last year's controversy, the task has apparently been made easier than ever for Phil. However, in an announcement that shocked the bodybuilding world, and in one which was met with a fair deal of scepticism, IFBB legend, and uncrowned Mr Olympia Kevin Levrone, shocked the world by announcing that not only was he making an official comeback and coming out of retirement, but that he would be doing so by competing in the 2016 Mr. Olympia in Vegas. Here's a look at this epic comeback, and whether or not Kevin truly stands a chance after a layoff of more than one decade.
Kevin Levrone – Before we go any further, for all of you relatively new bodybuilding fans, and for those who need their memories refreshing, here's a look at who Kevin Levrone is. Born in Baltimore, Maryland, and currently 51 years of age, Kevin Levrone is a true bodybuilding legend and icon in the bodybuilding world, and he is renowned for having one of the most massive yet aesthetically pleasing physiques to ever grace the bodybuilding stage. Nicknamed the Maryland Muscle Machine, Kevin Levrone has competed against, and has defeated, some of the all-time greats of the bodybuilding world, and has an incredibly impressive record of 23 professional competition victories, which was a record until Ronnie Coleman set a new record for pro contest wins back in 2004. Kevin began training as a pro back in the year 1991, after he took a first place finish in the NPC finals. Amazingly, he competed in the Mr Olympia contest the following year, though it was what happened shortly after that grabbed attention. Whilst benching 600 pounds, the Maryland Muscle Machine tore his pectoral muscles and many people thought that would be the end of his pro career. A short time later however, after months of rehab, Kevin made a full recovery and quickly piled on a great deal of mass and truthfully looked better than ever. He competed in a further 12 Olympia's, and although technically he never won, there are many people who believe that he should have defeated Dorian Yates, and even Ronnie for that matter, which is why people often referred to him as the uncrowned Mr. Olympia. Despite this, he finished in the top 3 numerous times, and also won countless other contests, including Gran Prix contests all over the world, and Arnold classic contests.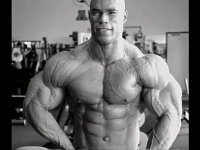 Life after bodybuilding – Kevin stopped competing around 2003 – 2004, and although he never made an official announcement, the fact that he stepped away from the sport, lost so much size, and pursued other possible career prospects was enough for many to believe that we'd never see him compete again. Kevin appeared in the odd TV show/low budget movie here and there, including Redline, but he certainly never cracked Hollywood the way that Arnold did. Kevin also appeared in an episode of Burning Hollywood, in which he basically spoofed himself and would walk around in posing trunks, posing and flexing as if he was still competing. Many fans were shocked when they saw this, as the one enormous man, was basically smaller than your average gym rat. They needn't worry however, as a year or so later, Kevin started 'The Levrone Report' an online series in which he would set goals for himself. One of which was to see just how much size and strength he could build in a number of weeks, and by the end of the transformation, he did look really well and was the biggest he had been in years. Late last year he apparently stepped up his training and promised a big announcement, though many fans simply didn't believe him. As the weeks went by however, and he grew larger, whisperings of a comeback once again began to surface.
The comeback – Initially, the big reveal was set to simply be Levrone posing without a shirt on, so that online fans could see just how great of a condition he's gotten himself into. However, thanks to his godly genetics, he responded better than ever to the training, and he was literally getting bigger by the week. By early 2016 it was obvious he was the biggest and leanest he's been in more than a decade, but again, no announcements were made. However, in early May, an official announcement was made that Kevin Levrone was coming out of retirement and would once again be competing at the Olympia, as he had received a special invitation from the organizers.
Levrone genetics – Ordinarily, it would take years upon years to train for a contest, especially if you were basically starting again from scratch, but if you know Levrone, you'll know that he is literally a genetic freak. He was renowned for only training 4 months out of the year for a contest, and when he showed up he would be huger and leaner than ever. If you've been following his Facebook and Instagram pages however, you'll see that not much has changed in this respect, as he is getting bigger with each passing week. If he officially began prepping in May, that would have given him more than four months to prepare, which, for somebody with his genetics, would be more than enough.
His chances – We honestly do not know his chances until we see him nearer the time, as although he is the biggest he's been in years, Kev is still not as huge, as say, Big Ramy or Phil, but as we say, we're still months away yet. His strong points have always been his chest, shoulders, and arms, and they are already looking amazing. His back and legs however, well, as they were always his weaker parts, he is keeping them under wraps for now, and rightfully so. If Kevin shows up in shape like more than ten years ago however, a top 6 finish would certainly not be out of the question.