Joined

Oct 25, 2007
Messages

6,569
Points

48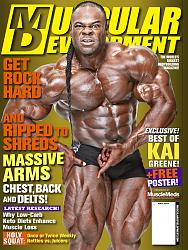 Kai Greene stands tall on next month's cover, which is on sale May 31st,
3 days after the NY Pro.
Kai's condition at the 2009 Arnold Classic was the best it had ever
been in his pro career until that point.

He was ripped to shreds―each muscle group was separated
with cross-striations from head to toe, front and back.
Kai was a living sculpture of a champion, and won the 2009
Arnold Classic with a perfect score.
Kai was a sight to behold- but can he recapture that glory?

In this issue, four-time Arnold Classic Champion Flex Wheeler asks

the question in "The Best of Kai Greene― Can He Ever Top His 2009
Arnold Classic Look?" Also inside this issue are exclusive studio
photos taken at the 2009 Arnold Classic.

These are the best shots ever taken of Kai at his best!
Also included is a free large size poster of the cover!

Kai has had some setbacks since his 2009 Arnold Classic

win he won the 2010 Arnold― by the skin of his teeth, some would argue.

Last year he parted ways with his coach and mentor, Oscar Ardon, and recently
hooked up with MD's "Pro Guru," George Farah― who vows to
bring in Kai at his "all-time best" for the New York Pro.

Can George Farah recharge Kai Greene?

No one doubts George's expertise; he helped Branch Warren
take second at the Olympia and win the recent Arnold Classic.

Kai is an amazing bodybuilder and a mysterious figure full of surprises.
He's shocked us before; will he do it again?


Steve Blechman, Publisher/Editor-in-Chief