Administrator
Staff
VIP
Member
Joined

Mar 7, 2008
Messages

21,599
Points

63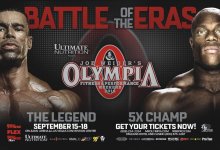 What's up guys!
Since we didn't had this game for quite a while, I thought it will be fun to play it again especially now that the legend
Kevin Levrone
is competing. I hope you all gonna enjoy it posting your top 6 predictions.
You know the rules so let's get it on!
The point system is the same and it goes like this:

1st place - 7 points

2nd place- 6 points

3rd place - 8 points

4th place - 8 points

5th place - 6 points

6th place - 5 points

Whoever guesses the top 6 in order gets a bonus of 15 points.

* this game will only cover the open class and the 212 showdown (Mr. Olympia)

* only top 6 suggestions will be taken into account.

* guesses will stop Friday morning before the show.

*

correct top 6 at the Mr Olympia will have a bonus of 25 points.
***check out this article about
Mr O 2016 212 predictions
&
2016 Mr O Open predictions
as well***
List of competitors: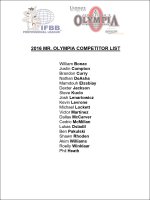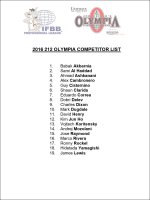 Good luck!