MuscleMecca Crew
MuscleMecca Crew
VIP
Author
Joined

May 11, 2012
Messages

3,171
Points

63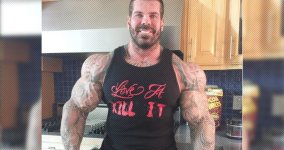 Born in Los Angeles in 1971,
Rich Piana
, also known as "Mr. California," was a nationally renowned American bodybuilder. Piana won several titles throughout his bodybuilding career, starting with winning first place at Mr. Teen California at the age of 18 years old. Piana stood at 6ft 1in tall and, at his peak, weighed a whopping 285 pounds, most of which was solid muscle. He became interested in bodybuilding when he was only six years old and began training at the age of 11 years old. Watching his mother train in their local gym for bodybuilding competitions is what initially sparked his interest in the sport. He began began entering bodybuilding contests when he was 15 years old, but gained popularity when he won the Mr. Teen California competition. Unfortunately, Rich Piana's life was cut short when he passed away on August 25, 2017 in Clearwater, Florida at the age of 45 years old. He fell to the ground while getting a haircut from his long-time on and off girlfriend, Chanel Jansen, and hit his head. Although he was rushed to the hospital, he remained in a medically-induced coma until he was announced dead on August 25. The news was shocking to his friends and family, first and foremost, but also to the bodybuilding world. Piana was very well-known and had a large following throughout his lengthy and tumultuous career.
Between the 1990's and
Rich Piana's untimely death in 2017
, Piana competed in
bodybuilding competitions
on and off. Some of the most significant titles that he won include: the NPC Mr. California, Sacramento Pro and Border States Classic XXX Bodybuilding, Fitness & Figure Championships, the latter two which were in 2009. He also placed 7th in the NPC USA Championships in 1999 and 11th in 2003. When Piana wasn't competing, he was still adamant about maintaining his physique. He was constantly training, but, unlike many famous athletes and bodybuilders, Piana did not follow a set routine. Rather, he worked out based on how his body felt. He would try different exercises and if he wasn't feeling one, rather than push through, he would switch to a different exercise that was just as challenging, but fit more with how his body felt that day. That being said, Piana wasn't one to shy away from extreme workouts. One of his most famous workout routines was his "8 hour arm day" routine which consisted of 16 30 minute sets of two different arm exercises with breaks every 30 minutes to consume a protein shake. This is perhaps the most extreme workout that we have heard of and Piana cautioned that it isn't for everyone and that he would take two full days off of working out following this intense routine. In general, Piana was a fan of switching up his training routines every week whether he was training for a competition or simply to maintain his physique. He was a frequent gym member up until his death in August 2017.
Over the years, Piana's main focus eventually switched from participating in bodybuilding competitions to his role as a social media star and entrepreneur. He had cameos in "The Incredible Hulk" and the popular TV series "Scrubs," but aside from bodybuilding, he prioritized his business, 5% nutrition. Piana stated that "5%" stands for the 5% of people who are willing to go to any lengths to smash their goals and see their dreams become a reality. Piana's website claims that the 5% mentality and subsequent lifestyle is applicable to anyone from business professionals to athletes. 5% offers everything from supplements and meal plans to gear featuring the brand's logo. It has become quite popular with serious athletes.
In his later years, Piana created a Youtube channel that he used to give nutrition and fitness routine advice to aspiring bodybuilders. His good looks and unique personality made this the perfect platform for him. In 2014, he caused quite a scandal when he created a video admitting that he used steroids for over two decades during his bodybuilding career. This initial video warned about the negative side effects that steroid use has on one's body, but also said that he had been willing to take those risks in order to be successful. He made a follow-up video in 2016 where he stood by his decision to use steroids, but placed more emphasis on the damage that they can do. While he apologized and discouraged the use of steroids, he claimed that in the bodybuilding world, using steroids is the only way to succeed. In his 2016 video he was quoted saying, "If you have the choice to do steroids or stay natural, stay natural. There's no reason to do steroids. You're only hurting your body and hurting yourself." While the use of steroids amongst bodybuilders is nothing new, it can be discouraging to hear that such a popular and respected bodybuilder used steroids for the majority of his career. There were many who felt that Piana should have kept this disappointing information to himself to avoid souring his reputation and disappointing his fans. However, Piana's decision to come clean and be honest about his experience was appreciated by many.
Rich Piana had quite an eventful life from his extensive involvement with bodybuilding competitions, as well as his later fame as an entrepreneur and social media personality. While not everyone supported his decision, such as his steroid use, he remained widely respected up until his death due to his unapologetic honesty about his life, including both his successes and his mistakes. Piana was a role model to many and gained a wide following from not only his bodybuilder's physique and dedication to the sport, but also because of his charismatic personality. He was an incredible individual who will be missed greatly by not only his friends and family, but by his fans all over the world.
Last edited by a moderator: