Joined

May 22, 2015
Messages

120
Points

18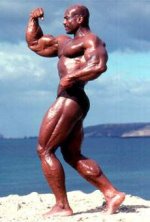 A bodybuilder by profession, Sergio Oliva was a heart throb of the millennium. Whosoever saw him felt he was just unbelievable. Sensing this to be very true, a contemporary bodybuilder of his times, Rick Wayne honored him with a Title- The Myth, Sergio Oliva.
Sergio Oliva was always in a competitive spirit. As an amateur as well as a professional bodybuilder, he excelled with an all round performance. With so many titles and memberships, he is a rich person in terms of achievements and accolades. Mr. World in 1966, Mr. Universe in 1966 and triplet IFBB Mr. Olympia titles from 1967 to 1969 are the bodybuilding titles he has earned for himself.
The physical supremacy he embodied was unique. The dynamic nature and avant-garde physique was the ultimate. He was born to be a bodybuilder, thanks to his genetics and unperturbed charisma. Oliva was a propelling force to bring bodybuilding to the next level and present day misses him greatly.
Legend's Life:
Born on July 4, 1941 to a farmer in Cuba, Sergio Oliva lived his childhood working with his father in Guanabacoa, Havana. At the age of 16, he joined the Fulgencio Batista's army, upon suggestion from his father, fought for his nation in the war against Fidel Castro. After the war ended against victorious Fidel Castro, he concentrated on working out and bodybuilding. Still in the clutches of Fidel Castro, he participated and was a runner up at the Cuban National weightlifting championship. This earned him a ticket to Central American Games in Kingston, Jamaica. Oliva managed to run away from the quarters of Castro and reach the United States Consulate along with the entire Cuban weightlifting team. As per their request, the Consulate granted them a political asylum after which there was no looking back for Sergio Oliva.
For a while he stayed in Miami, Florida and worked as a TV repairman. Soon he moved on to Chicago, Illinois and worked at a local steel mill and moved trucks. In Chicago, he joined Duncan YMCA and focused on bodybuilding. Oliva met Bob Gajda at Duncan YMCA and embarked on with his bodybuilding history. His dedication to out-muscling and bodybuilding was apparent as he valued time and resources seriously and worked in gym and posed regularly. He was a man who achieved bodybuilder status in a very short span of time and Oliva became Mr. Olympia in just four years of professional training.
The first bodybuilding title that he earned was Mr. Chicagoland contest in the year 1963. The next year was evident of his becoming Mr. Illinois, 1964. At the AAU Junior. Mr. America contest, 1966 he won the title Most Muscular but lost the Jr. Mr. America title. However, he corrected himself and grabbed the title, Jr. Mr. America, 1966 with the Most Muscular trophy again. With the hunger to achieve more, he joined International Federation of Bodybuilders, IFBB and won 2 contests- Professional Mr. World and Mr. Universe.
3 times Mr. Olympia quit all the contests from IFBB later and concentrated on other bodybuilding federations. He won the Mr Galaxy titles twice in 1972 and 1973 that was hosted by World BodyBuilding Guild (WBBG). He was also 3 times champion in Mr. Olympus WBBG contest held in 1975, 1976 and 1978. He won the WABBA professional world championships twice in the year 1977 and 1980 and WABBA Professional World Cup in 1980 and 1981.
Olympia feat:
The legendry athlete set ablaze all the dreams of other contenders for 3 years consecutively as he won the Mr. Olympia repeatedly from the year 1967 to 1969. He made a Guinness World Record by winning Mr. Olympia, 1968 uncontested. His victory against Arnold Schwarzenegger in Mr. Olympia, 1969 is remembered as a history as Arnold was undefeated till then. The Mr. Olympia measured 5 foot 10 inches high and weighed 230 lbs. Arms were a grand 21 inches. He had a slim waist as small as 27 inches and imposing thighs of 29 inches girth.
Somehow, Joe Weider controlled IFBB did not do any good to Sergio Oliva as he was barred or banned for reasons, that seemed, just made for him to be kept out of the Mr. Olympia contest. Sergio Oliva was defeated by Arnold in the next Mr. Olympia, 1970 in a very controversial manner. Joe Weider is believed to have played the trick of changing the judges at the last minute that changed the scores entirely.
After this edgy encounter, Oliva was determined to defeat Arnold and regain the cult bodybuilding title. However, the presence of Joe Weider was thought to be a great challenge rather than that posed by the contenders. Next year, in Mr. Olympia contest, Oliva was banned to contest as he competed in NABBA Mr. Universe at the same time. He was, however, permitted to guest pose in the Mr. Olympia, 1971.
Oliva challenged Arnold for Mr. Olympia title in the year 1972. But what happened again was just a last minute judge switch that cost Oliva heavily. This contest has been considered as the most controversial one ever. Arnold Schwarzenegger accepted his fear for Oliva, as Oliva was the only contender who made him feel his nerves. The nostalgic Arnold recollected how imposing Oliva was with his majestic physique in his interview, TOTAL RECALL.
The cold war between IFBB and Oliva took a great turn when, Sergio Oliva was disqualified from IFBB Mr. International, 1973 even after his victory. Sergio Oliva disengaged himself from the contests hosted by IFBB thereon.
IFBB invited Oliva for Mr. Olympia contest again after 12 years of gap. In 1984, when he had retired, he competed but achieved eighth position which was again a controversy. The same repeated in the next year when he was posing his extremely impressive and charismatic bode at the age of 44 years.
Personal life:
Sergio Oliva was a great man. Other than being an aesthetic bodybuilder, he was a unique persona whom millions loved and cherished. The Myth was undoubtedly known for his perfect proportions and generosity. As a bodybuilder and police officer, he was recognized for his gentleness in gait and speech.
It is said that being police means not to have a good married life. 1986 marked a little bleakness in his life when his then wife Arleen Garrett tried to kill him except he sustained 5 bullet injuries to survive until lately. Oliva has been a good friend and father to Junior Oliva. Jr. Oliva is following the footsteps of his father in achieving the bodybuilding titles.
After he fought for Cuba in his homeland, he moved to Chicago. Enjoying the new freedom in America, he started competing for bodybuilding champions and soon wrote Chicago police civil service examination. He joined the Chicago Police Academy on 26 April 1976 and served as police officer for around 25 years. It has been said there were no uniforms that fit his magnificent persona and he had to customize the uniform at his own cost.
Death: Sergio Oliva suffered a severe kidney failure that took away his life on November 12, 2012. He was 71 years old then. His death is reported to be the first of Mr. Olympia winners till date.
Sergio Oliva lived a life quite eventfully. He flavored his inborn capabilities with the right bodybuilding regimen while managing a decent job too. Oliva is a role model to anyone who feels there is very little time left in their busy schedule to train and sculpt their body. When the desire is deep and will is strong, the myth is born- reborn…

© Copyright musclemecca.com