Administrator
Staff member
Staff
Member
Joined

May 27, 2010
Messages

5,280
Points

83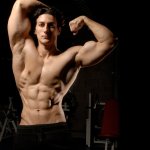 Sadik Hadzovic was born in Bosnia & Herzegovina, in 1987. Sadik had it very tough growing up. His family immigrated into America as refugees, and in an attempt to make their life better, young Sadik was forced into the unknown. He was brought up by very hard working parents with a strict no-nonsense mentality which was instilled in young Sadik from his child-hood.
His passionate drive and strong determination to succeed led him onto the path of fitness. He found comfort in weight training at a very young age. He sees the gym as an escape from the bumps and frustrations he encountered in his childhood. He noticed a boost in his confidence each time he exercised.
Most of his childhood idols were superheroes, and he had a secrete desire to look just like them. In 2002, at a very tender age of 15, Sadik started to feel disgusted about his lack of muscles and his skinny look and this had a toll on his confidence.
He stepped up his training by doing hundreds of push-ups and bicep curls in a bid to building a superhero body. Unfortunately all these trainings weren't giving him the desired result.
Strongly determined to be like his superhero idols, he took an analytical step into finding out what he was doing wrong. He then found out that he was not paying close attention to his diet. He knew he had to step up his game and educate himself on nutrition in order to attain his dream physique.
He started to notice serious changes and positive results in his physique once he started eating smaller meals and keeping track of his macros. He continued his training regime for the next decade. By the time he was 24, he has developed a great passion for fitness and a formidable physique to back it up. He then set his sights on becoming a professional bodybuilder.
Taking a step further from his initial goal of looking like his childhood comic-book heroes, he decided to become a professional bodybuilder and it wasn't long until he became a competitor.
He entered his first competition in 2011, the NPC Eastern USA championship. He finished at a respectable 3rd place on the podium. This competition gave him valuable experience and he was opportune to meet like-minded athletes. As a result of this competition, he was inspired to train even harder and to come back stronger and better than before.
The taste of competition aroused his hunger for more. He continued to build an impressive body through his intense training and his consistency in the gym.
He entered the 2012 NPC Metropolitan championships the following year and he took home his first trophy after placing 1st in the competition. In that same year, he participated in three more competitions and carted away two more trophies. After his second place finish in the 2012 NPC Junior USA Championships Men's physique division, this paved the way for him to participate in the Junior National Championships.
By the time Sadik was 25, he had earned his Pro Card, paving the way for him to be a professional bodybuilder.