Kayce
Well-known member
VIP
Author
Member
Joined

May 22, 2015
Messages

137
Points

28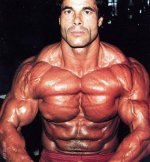 Franco Columbu is the most resilient bodybuilder that the world has ever seen. Young at 20s or old at 40s he retained his muscular, well kept body consistently and flamboyantly. Franco won the Mr. Olympia title at the age of 40 after a fully recovered leg injury. The age when everyone plans to retire, he was brave enough to contend and smart enough to win it too.
​
Franco Columbu is a bodybuilding champ who is nicknamed as "The Sardinian Strongman." Columbu was born to a shepherd family on 7 August, 1941 in Sardinia, Italy. Franco had multiple talents inherent and never quit attitude. His Catholic background and disciplinary upbringing filled him with will and dedication to achieve extraordinary. Soon, he became an ardent boxer, bodybuilder, weightlifter, deadlifter and power-lifter. His life has been beyond body making. He explored the medical field as a qualified Chiropractor and nutritionist. Not to mention, many of you would know him as an actor and film producer. However, the journey through all these phases of his life was not simple or just a joy-ride. Read on to know more about our living legend.
​

​
Franco started his career by boxing. Being an amateur boxing champion of Italy, didn't satisfy him to the fullest. Pretty soon he entered the actual stream of weightlifting and powerlifting, and some time later he also put his interest in bodybuilding. Franco being just 5 feet 5 inches was highly criticized with many magazines reporting his height to be 5'3". His progressive career changed the general perspective of bodybuilding limited by height.
​
Columbu was a passionate bodybuilder and tried innovative things while posing for the contests. Every stunts worked miraculously well for him but one. It was the world's Strongest Man contest in 1977, when he braved to run with a refrigerator tied to his back downhill. All was fine until he tripped and fell that caused him a dislocated leg. With a good track record till then he won fifth position in the competition and received $1 million compensation for the injury. However, he being a chiropractor came to his rescue as he skillfully recovered from the injury pretty soon. He was told by his doctor he would not be able to walk on his leg again, but miraculously he started walking in 3 years and won 1981 Mr. Olympia contest after 4 years. This was the level of his confidence and a yearning to not quit no matter what.
​

​
If ever there was a perfect combo of powerlifting, strength training, deadlifting, bodybuilding, then it has to be Franco Columbu. Not everyone succeeds in this feat. He was the winner of the title of Mr. Olympia not once but twice in the year 1976 and 1981. Later in 1977, he topped in the championship, World's Strongest Man even though he weighed less than other competitors. However luck had a twist as he was retired hurt. In his majestic comeback, he beat Arnold Schwarzenegger in 1981 Mr. Olympia contest.
​

​
Achievements in bodybuilding: ​
His bodybuilding career started to zoom when he bagged the fourth place in Mr. Europe contest, 1966. After a 2 year's gap, he won Mr. Universe, Most Muscular Man and Short. In 1969 he became the Mr. Europe in Medium category and NABBA Mr. Universe (Most Muscular), NABBA Mr. Universe (Short) and IFBB Mr. Universe (Short).
​
In the next year, Franco won the titles- IFBB Mr. Europe (Short and Overall), AAU MR. World (Pro Short), IFBB Mr. World (Short), IFBB Mr. Universe (Short & Overall). Columbu was disqualified from IFBB Mr. Universe contest as he was considered as a professional authoring bodybuilding books. He also has to his credit Mr. Olympia in lightweight category, 1974, 1975, 1976 and 1981. He was awarded Arnold Classic Lifetime Achievement Award in the year 2009.
​

​
Powerlifting: ​
Franco Columbu won the title Champion of Italy, Champion of Germany and Champion of Europe. His best Bench press was 525 pounds, squat (exercise) 665 pounds and Deadlift of 750 pounds. Off contest, he was known to deadlift greater than 780 pounds at a body weight as low as 190 pounds.
​

​
As a friend to Arnold: ​
Arnold and Franco were known for their long term friendship. It all began when the duo met each other in Munich. Both were seen competing against each other in several national and international body building contests and competitions. Mr. Olympia, witnessed Arnold in the over 200 pounds category and Franco in the under 200 pounds category.
​

​
Their friendship was so deep that they were inseparable as they were seen in training sessions as partners. They were invited by the then bodybuilding guru Joe Weider to America with a sponsorship of $80 per week. This turned out to be a business venture- European Brick works. Their friendship flourished through the Mid-1970s. In 1986, Franco became Arnold's best man at the wedding with Maria Shriver.
​

​
Franco Columbu continued to set new records in powerlifting and Olympic weightlifting. His stunts have been miraculously energetic and
​
brave Blowing a hot water bottle orally, lifting heavy vehicles were a few of his adventures.

​
As a chiropractor: ​
He is a qualified chiropractor with a self boasted PhD in nutrition. However, he was warned by the California Board of Chiropractic Examiners to mislead people this way. His good old friend also governor Arnold Schwarzenegger appointed Franco into the California Board of Chiropractic Examiners.
​
As an action hero:​
Franco Columbu tried his luck in movies and was taken aback with the huge success he garnered. He has acted in several movies namely, Stay Hungry, Conan The Barbarian, The Terminator, The Running Man, , Last Man Standing, Big Top Pee-wee, II ritmo del silenzio, Beretta's Island, Taken Alive, Doublecross on Costa's Island, and Ancient Warriors.
​
He played his own character in movies- Pumping Iron, The Hustler of Muscle Beach, Getting Physical, Don rickles: Rickles on the Loose, Hollywood Salutes Arnold Schwarzenegger:An Cinematheque Tribute, Raw Iron:The Making of Pumping Iron, Why we Train, Muscle Beach then and Now.
​
Soon he went ahead in the film industry to become producer and trainer. He trained Sylvester Stallone for the Movie Rambo: First Blood Part II. He also worked as a bodybuilding coach for the movie- Death Before Dishonor.
​
Ancient Warriors, Doublecross on costa's Island, Taken Alive and Beretta's Island, were the movies he produced and Desperate Crimes and City of Shadows were the movies in which he worked as an executive producer.
​

​
Franco also contributed to stunts in the movies- End of Days, Solomon, and Eraser. He was seen in documentaries- Muscle Beach Then and Now, Why We Train, Raw Iron: The Making of 'Pumping Iron', Hollywood Salutes Arnold Schwarzeneger: An American Cinematheque Tribute, Don Rickles: Rickles on the Loose, The Comback, Pumping Iron, ABC's Wide World of Sports.
​
As an Author: ​
Franco Columbu has authored several books that serve as a guide to aspiring bodybuilders and fitness enthusiasts. Here are a few books published under his authorship.
​

​
Winning Bodybuilding" co-authored with George Fels in 1977.
​
Starbodies" co-authored by Anita Columbu in 1978.
​
Weight Training for Young Athletes" in 1979.
​
Weight Training and Bodybuilding: A complete guide for young athletes" in 1979
​
Winning Weight Lifting and Powerlifting" co-authored by Richard Tyler in 1979.
​
The Businessman's Minutes-a-Day Guide to Shaping Up" co-authored Lydia Fragomeni in 1983
​
Franco Columbu's complete book of Bodybuilding" in 1983
​
The Bodybuilder's Nutrition Book" in 1985
​
Coming on Strong" co-authored by George Fels in 2001
​
Franco Columbu was an exception to several myths. He put back the general statement that short height cannot take you far ahead in bodybuilding. Even after a severe leg injury, he made a great comeback with a Mr. Olympia title in 1981. Furthermore, his career does not limit to bodybuilding or weightlifting, he authored several bodybuilding books and worked in film industry successfully. Ultimately, Franco Columbu was a multi talented person, as a boxer, bodybuilder, weightlifter, deadlifter, chiropractor and an actor.

​
© Copyright 2013 musclemecca.com
Not to be used without permission
​