Kayce
Well-known member
VIP
Author
Member
Joined

May 22, 2015
Messages

158
Points

28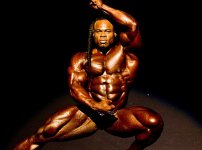 Kai Greene:
"If I want to be a king, I can't walk around looking like a peasant." - Kai Greene
It's been said that we don't pick our parents when we're born. It's also true that we choose to have children, but don't always know what the future holds for our children. This rings true for most of Kai Greene's early childhood.
Kai Greene was born in Brooklyn, N. Y. on July 12, 1975. His life as a child was not an easy one. Most children at the young age of six are happily playing outside with other kids, their mom's in the kitchen cooking, and their dad, a strong figure in the family, at work to support the family. This was not to be for young Kai. His family life was very unstable, and by the time he was six years old he was a ward of the state, moving from one foster to home to another. This is not the life that young Kai would've chosen for himself, but it's the life that was thrown at an innocent child.
While it would be easy for most children in his situation to just give up and turn to a life of crime, young Kai expelled his energy through weight training. Finally, young Kai had found his true passion. It was becoming evident that a transformation was quickly occurring, not only in his body, but his enthusiasm towards life was changing as well. His repressed anger which had contributed to his less-than-desirable conduct, was now subsiding and being replaced with much confidence and a zest for life.
How did Kai Greene sculpt his body? Kai Greene didn't want to be just another weightlifter – his aspiration was to make his body the clay that could be molded just as a visual artist produces a canvas with the swift sweep of his brush. Kai Greene studied the body's anatomy and physiology to obtain a unique understanding of how the human body works, how it moves, and how the integration of certain foods, vitamins and protein drinks help develop the muscles that help shape the body. It wasn't about "picking it up and putting it down" any longer. It was about creating and showing off the beauty that lies within all of us.
The hours of weight training were finally paying off. His physique was turning into a magnificent work of art, and those around him were taking notice. One person in particular that took notice was Kai's 7th grade teacher. His teacher encouraged young Kai to enter local bodybuilding competitions along with other teens of his own age. Young Kai was so excited when he was awarded second place in a bodybuilding competition of his peers that he decided to take a break from the competition and work on improving his physique even more.
While he was on break from the competition arena, he found what would finally become his true home – the Fifth Avenue Gym located in Brooklyn, New York. The young teen that once had been shuffled from foster home to foster home and other institutions was now home. He was now among his peers and those that held dear his appreciation for bodybuilding. He used this break to absorb everything there was to know about bodybuilding that would eventually make him one of the worlds' most respected bodybuilder. By the time he was 19 years old, young Kai was known as the youngest professional bodybuilder in the world.
Although he held the title of the youngest professional bodybuilder in the world, young Kai still did not have a professional status with the National Physique Committee, or NPC, which awards professional status to amateurs. His ultimate goal was to win Team Universe and attain professional status with the International Federation of Bodybuilding and Fitness (IFBB). Once the latter was achieved, Kai was invited to compete at the World of Bratislava, Slovakia, where he took fourth place against the world's best bodybuilding challengers. While fourth place was good, it was not good enough for him.
It was at this time that Kai decided that if he was going to achieve his ultimate goal of being number one against his bodybuilding competitors, he would need to spend more time working out to define and sculpt his physique.
It was the best decision he could've possibly made. Through hard work and determination Kai placed first in 2011 in the New York Pro Championship.
For 16 years his ambitions and aspirations remained high. On both September 29, 2012, and September 28, 2013, Kai Greene placed second in the Mr. Olympia competition in Las Vegas, Nevada.
Kai Greene's accomplishments and wins include the following:
2007
2007 Shawn Ray Colorado Pro/Am Classic: 1st Place (Champion) – Men's Best Poser Award
2007 Keystone Pro Classic: 3rd Place
2007 New York Pro: 6th Place – Men's Best Arms Award
2006
2006 New York Pro: NP
2006 Shawn Ray Colorado Pro/Am Classic: 14th Place – Most Entertaining Posing Routine Award
2006 Iron Man Pro Invitational: NP
2005
2005 New York Pro: 14th Place
2008
2008 Arnold Classic: 3rd Place
2009
2009 Arnold Classic: 1st Place (Champion)
2009 Pittsburgh Pro: Guest Poser
2009 Mr. Olympia: 4th Place
2010
2010 Arnold Classic: 1st Place (Champion)
2010 Pittsburgh Pro: Guest Poser
2010 Jacksonville Pro: Guest Poser
2010 Mr. Olympia: 7th Place
2011
2011 Pittsburgh Pro: Guest Poser
2011 New York Pro: 1st Place (Champion)
2011 Mr. Olympia: 3rd Place
2011 Sheru Classic: 3rd Place
2012
2012 Mr. Olympia: 2nd Place
2013
2013 Mr. Olympia: 2nd Place
Kai Greene's story is not just about bodybuilding. Kai Greene's story is one of inspiration. A story of a boy who faced many obstacles as a child, but through all the adversity he never gave up - he still worked hard to make his dreams come true.
Kai Greene's story is just the beginning. It does not end here. There are many more wins and accomplishments left to fulfill. Kai is a veteran of the bodybuilding arena, and an International Federation of Bodybuilding and Fitness (IFBB) Pro. He has won second place as Mr. Olympia in both 2012 and 2013, but 2014 is just days away, and he is not about to give up now.
** Get ready for Kai Greene to win the title of Mr. Olympia in 2014! **
© Copyright musclemecca.com 2013
#TKD
Great read!
I'll add some Kai pics, and some HQ pics as well from our VIP and veteran member, Iceman1981. Credits to him!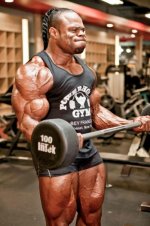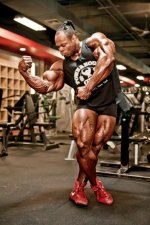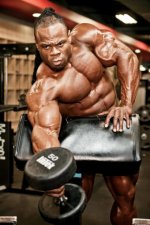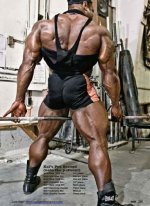 Last edited: