TalkAdmin
Administrator
Staff member
Staff
Member
Joined

May 27, 2010
Messages

5,442
Points

83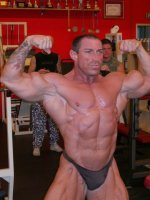 Costantino Polesel is an Italian bodybuilder who has participated in many bodybuilding competitions in Italy and abroad as an amateur. In Italy, he competed in the IFBB but in recent years he has participated many times in a very important bodybuilding race in Italy, called trophy two towers.
Costantino first participation in bodybuilding was in The Trophy Two Towers and that dates back to 1994, when he won second place in the heavyweight division.
After that year, Costantino has competed a lot and he especially has devoted much time to improve his physique.
In 1999, Polesel managed to win the overall title in bodybuilding Trophy Two Towers. A week after this resounding victory, Costantino competed in Rome at the Colosseum IFBB and won! Second place was won another great bodybuilding champion: Franco Male. I remember very well the last confrontation between Frank and Costantino . Two completely different types of physicality, but one thing piled them together, many pulled muscles.
I remember the first time I saw Costantino Polesel live in person. It was 1999 in Rome, at the Colosseum IFBB a week after winning the Trophy Two Towers and I was awe struck me very much at the amount of muscle he had. Years later, in 2011, in Bologna I saw him on stage again, but for the first time (at least for me) on the stage of the Trophy Two Towers in the highest category ... and his body was and is always extremely muscular.
By winning the IFBB Colosseum, it allowed Costantino to become an IFBB PRO and in 2000-2002 he competed among professional bodybuilders.
Costantino Polesel's website, he writes:"I won the highest category [the trophy two towers in 1999] with a weight of 115 kg and even the absolute. I managed to win the Colosseum and to become an IFBB pro. Then also done a few races for selection to Mr. Olympia"
On the site we can read in the Palmares section in the IFBB pro competitions got more placings outside of the top ten. But on the Internet, I found only these two competitions:
2001 Grand Prix England - IFBB, 14[SUP]th[/SUP]
2002 Grand Prix England - IFBB, 12th
In 2001, Costantino competed in England for the 2001 edition of G.P. England post Mr. Olympia. I think, because of the tragic attack on the twin towers, the IFBB pro decided to cancel the post Olympia tour, leading the IFBB PRO athletes in Europe. On this occasion, the G.P. organized by Dorian Yates, it produced the following ranking:
1 Kevin Levrone
2 Chris Cormier
3 Dennis James
4 Dexter Jackson
5 Ernie Taylor
6 Melvin Anthony
7 Tommi Thorvildsen
8 Tom Prince
9 Craig Titus
10 Gunter Schlierkamp
11 Sergiej Chelestov
12 J D Dawodu
13 Claude Groulx
14 Costantino Polesel
15 Eddie Abbew
16 John Hodgson
- Gustavo Badell
- Jason Carter
- Gianluca Daniele
- Dennis Francis
- Alex Georgiev
- Mark Harris
- Jenz Künzler
- Alison Mary
- Erwin Marquez
- Mustafa Mohammad
- Aivars Visockis
In 2002, Costantino competed in England, in the post Olympia GP organized by Dorian Yates. This is the final ranking:
1 Dexter Jackson
2 Dennis James
3 Chris Cormier
4 Ernie Taylor
5 Claude Groulx
6 Tommi Thorvildsen
7 Art Atwood
8 Jaroslav Horvath
9 Paco Bautista
10 Elvis Peter Brown
11 Michael Sheridan
12 Costantino Polesel
13 Alison Mary
14 Alex Georgiev
15 Ricky Welling
16 Neil Hill
17 Young Thompson
18 Emmanouil Tzinidis
19 Paul Thomas (2)
20 Didier Blanc
21 Harold Marillier
22 Gianluca Catapano
After 2002, Costa decided to return pro card and return to compete as amateur athlete.
in 2015, a few days before the San Marino IFBB Pro 2015 competition organized by the pro IFBB Gian Enrico Pica, I came to know that Costantino has become a new IFBB Pro Bodybuilder.
At the San Marino Pro, after many years of absence from the professional bodybuilding, Costantino managed to get 16th place in the standings. Here are the rankings of the race:
1 Joshua Lenartowicz
2 William Kwaku Bonac
3 Ronny Rockel
4 Robert Piotrkowicz
5 Emiliano Dell'Uomo
6 Marek Olejniczak
7 Petar Klancir
8 Tomáš Kašpar
9 Jeno Kiss
10 Anwar abdeltawab
11 Antonio Gutierrez
12 Zaher Moukahal
13 Miha Zupan
14 Francesco Mazzotta
15 Zoran Kolevski
16 Costantino Polesel
17 Fabrizio Zittugro
To this day I'm not sure what Costantino Polesel's future plans are but I know you will see him soon on a bodybuilding stage.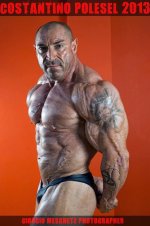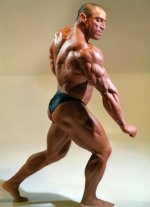 Credit Goes To MuscleMecca Member UnderBody! Thank You!
Last edited: